What websites are blocked in China?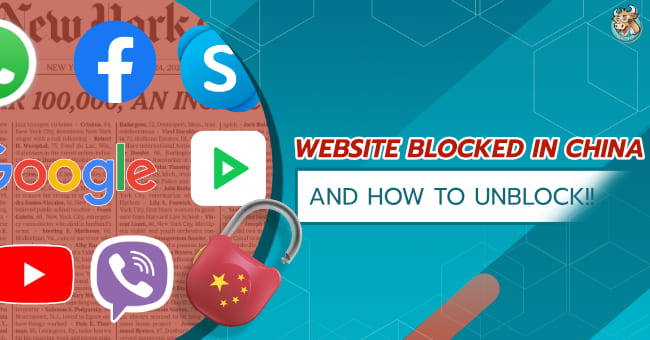 As you know, as more and more tourists enter China. But the number of websites blocked in China is also increasing. Therefore, tourists, students or people who have to travel to China need to prepare for the Internet well before traveling to China.
Currently, there are many websites blocked by China. Today, Brother Wu will come to update websites that are blocked in China. along with how to access blocked websites when abroad. However, there will be some blocked websites. Let's see.
NEWS MEDIA
New York Times
BBC
Financial Times
Wall Street Journal
Reuters
CNN
TIME
SEARCH ENGINES
Google (text and voice)
Amazon (Alexa)
Yahoo
DuckDuckGo
Bing
MESSAGING APPS
WhatsApp
Facebook Messenger
Telegram
Line
Signal
KaKao Talk (Korean)
BLOGGING PLATFORMS
Medium
Blogspot
WordPress.com (Only locations)
VOIP APPS
Skype
Google Hangouts
Viber
MISCELLANEOUS
Porn websites
VPN websites
Politically sensitive sites
MEDIA WEBSITE
Youtube
Twitch
NaverTV
Viu
SOCIAL WEBSITE
Facebook
Twitter
Instagram
Tiktok
Twitch
And there are still many websites that are still blocked in China. You can see more here.
If you read this far, there is a website that you want to use but is blocked in China. You can access any blocked website in China by simply connecting to BullVPN in the server country that offers that website. That's it, you can now access the website.
It can also bypass the blocked websites that China has blocked as well. You don't have to worry about security because BullVPN has a unique routing and respects the privacy of users so that BullVPN can be used safely.
✅ You can apply and try it at https://www.bullvpn.com/signup
----------------
Blog recommend
คำแนะนำสำหรับลูกค้าบริการ BullVPN ในประเทศจีน VPN ที่จะสามารถทะลุบล็อกเว็บไซต์
5 วิธี unblock web เข้าเว็บที่โดนบล็อก
ไปต่างประเทศ ทำไมต้องมี VPN ติดตัวไว้เสมอ
อยากดู YouTube ในจีน เข้าไม่ได้เพราะโดนบล็อก อ่านกระทู้นี้สิ!