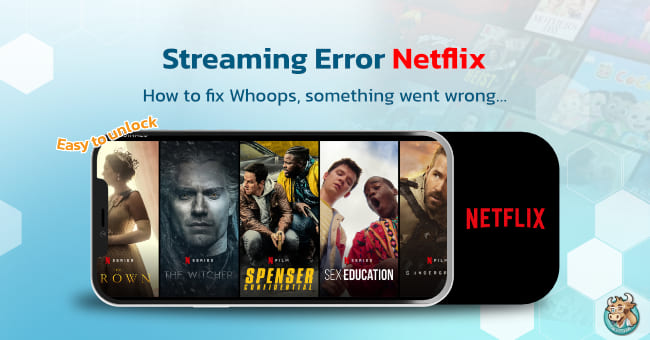 Why isn't Netflix working?
If Netflix isn't working, you may be experiencing a network connectivity issue, an issue with your device, or an issue with your Netflix app or account.
Where is Netflix available?
Netflix members with a streaming-only plan can watch TV shows and movies instantly in over 190 countries. The content that is available to stream may vary by location and will change from time to time.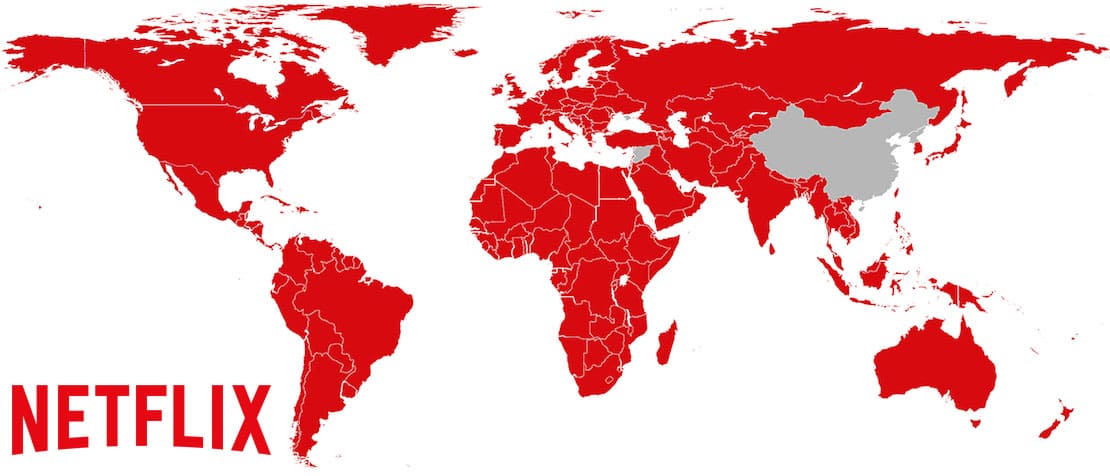 What countries is Netflix currently unavailable?
Netflix is not yet available in China, though the company continues to explore options for providing the service. It also is not available in Crimea, North Korea, or Syria due to U.S. government restrictions on American companies.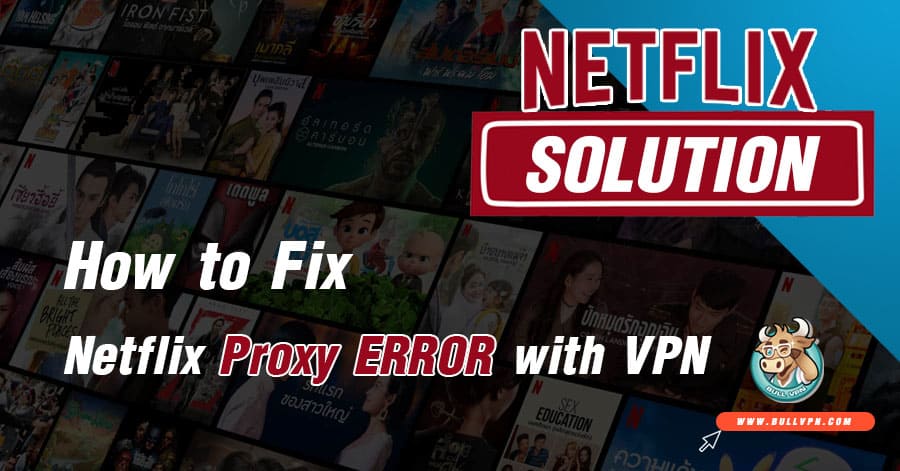 To get back to watch?
First, check if there is an error code or error message on-screen. If your issue has a code or message, enter that code or message into the search bar on our Help Center home page. From there, you'll be given steps tailored to the issue you're seeing.
If your issue does not have an error code or message, search for the problem you're experiencing on our Help Center home page. Example issues include seeing a black screen or being unable to sign in.
If you've searched for an article but still can't watch, check to see if we've reported any service outages. It's pretty rare, but sometimes we have problems connecting to the internet, too.
And finally, if you have tried all three methods but still can't watch Netflix.
Today, BullVPN has a solution to the problem.
Netflix Japan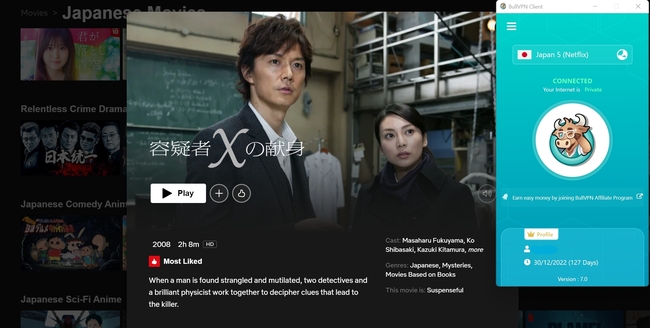 Netflix USA

Netflix Thailand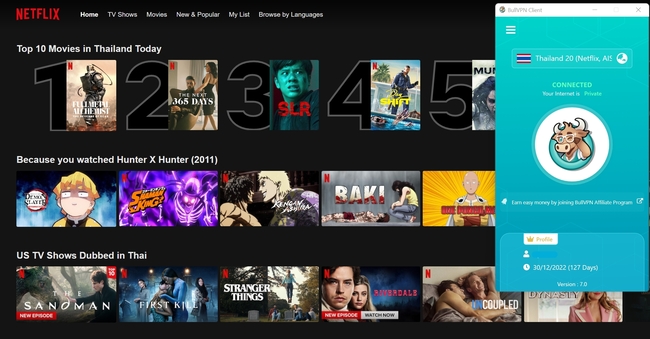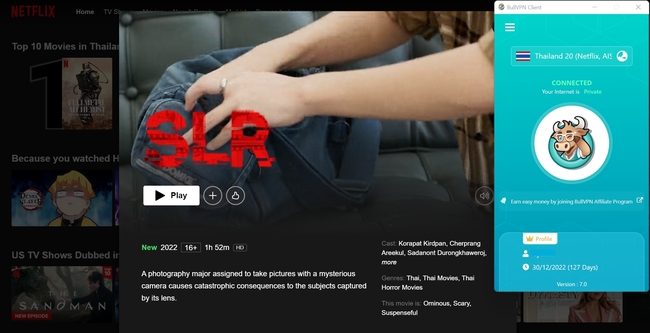 Why You Need the Right VPN to Unblock Netflix?
Netflix uses your IP address to find out where you are. It uses your location to determine which TV shows and movies you can view, and which to block. This is called the geo-blocking. It's easy to change your Netflix region with a VPN. (What's the VPN ?) Click
However, not all VPNs work with Netflix. If you're using a VPN that can't bypass Netflix's VPN blocks, you'll get the dreaded Streaming Error message:
"Whoops, something went wrong… Streaming Error. You seem to be using an unblocker or proxy. Please turn off any of these services and try again."
Most VPNs can't bypass these blocks. Netflix checks your IP address against a third-party database to check if you're connected to a known VPN server. Even if your VPN usually works for other streaming services, you still might not be able to watch your Netflix show.
Don't panic yet – we testes the best VPNs and found which ones can bypass anti-VPN measures.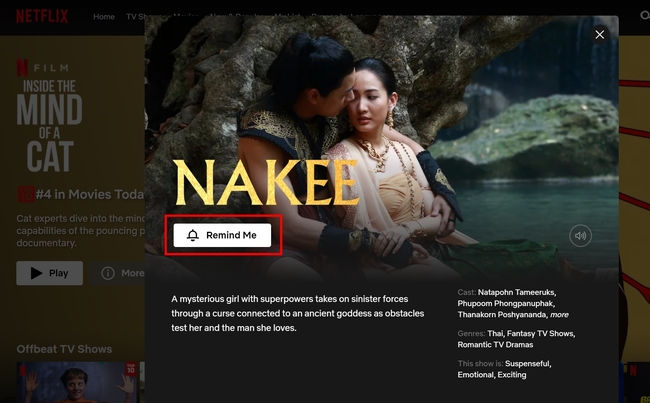 And even if we have links to movies, anime, and series that we want to watch, but are not in a region where we can watch them, Netflix will show Remind Me as shown in the picture above, so we can't watch movies or series that we can see.
How to Choose the Best VPN for Netflix
A VPN for fast, easy Netflix streaming needs:
To bypass Netflix's VPN blocks.
Servers in the country you want to access. For example, if you want to watch Netflix US, you'll need to connect to a US-based server that can bypass Netflix's VPN blocks.
High-speed connections and unlimited bandwidth to ensure unlimited, fast, high-definition streaming.
Strong security features to protect your data, such as military-grade encryption, a strict no-logs policy, and an automatic kill switch.
Multiple simultaneous connections and apps for different devices so different members of your household can watch their own shows at the same time.
Steps to fix the Netflix Proxy Error:
1. Sign up with a reliable and trustworthy Netflix VPN provider such as BullVPN
2. Download and install BullVPN Program on the device you wish to stream Netflix (BullVPN support Windows, Mac, iOS, Android and Chrome)
3. Launch the BullVPN application or BullVPN Client and connect to a VPN server from the list being displayed to you by the BullVPN app such as Thailand, Japan, USA, UK and etc. more than 20 servers.
*Suggestions. Do not change servers frequently. Will have trouble watching Netflix.
4. Go the Netflix app or launch it on the official website. You can "Netflix and chill" every time, everywhere with BullVPN!