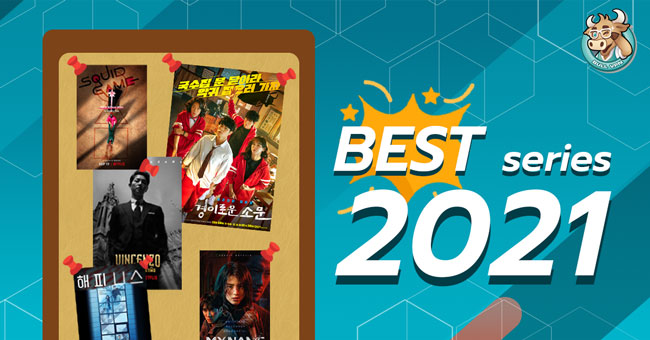 Hello, Happy new year If you haven't watched movies or series, you need to find time to watch it now. Because there are a lot of great series during the end of the old year.
Let's see a list of Korean series that you must not miss last year. There are many genres and styles to choose from.
The best series of the year
Squid Game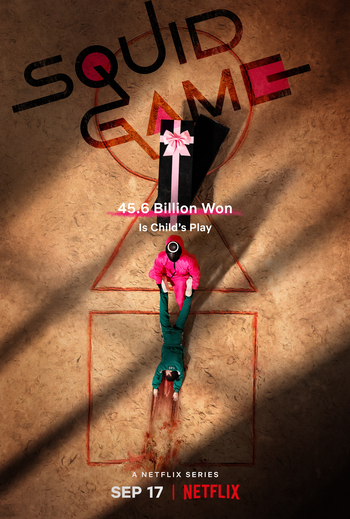 Genres: Mystery thriller / Drama
It is known as a famous series. The strongest of the year that has it all Because it's famous all over the world. Everyone would love to play with Dalgona Candy, a traditional Korean sugar candy.


Plot : 456 players who have been invited to a puzzle compete in a children's game full of mysteries. to win huge prizes The players accepted the bizarre invitation in hopes of winning both the victory and the huge prize money. Unfortunately, they didn't realize that this bet cost their lives.
Episodes: 9
Available: Netflix
Trailer series Squid Game
The fantastic series of the year
Vincenzo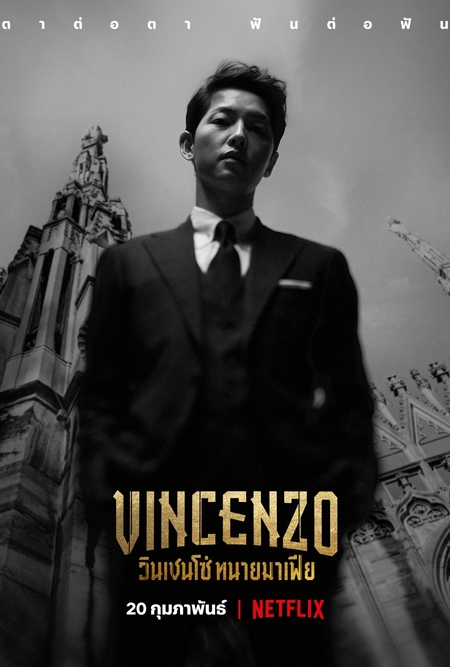 Genres: Comedy / Drama / Crime / Law
This story has to be the best because it's very fun, full of flavor, comedy, action, social satire, plus the handsomeness of "Song Joong-Ki", the queen of good chemistry. Every character in the story is very memorable.
Plot : Vincenzo Casano, the Italian Mafia's Concealer He returned to Korea to manage the gold bullion buried beneath the building in the center of Seoul. In which he came back, he met a lawyer, Hong Cha Young, who did everything possible to win every case. The two must work together to defeat the villains.
Episodes: 20
Available: Netflix
Trailer series Vincenzo
The best action series of the year
The Uncanny Counter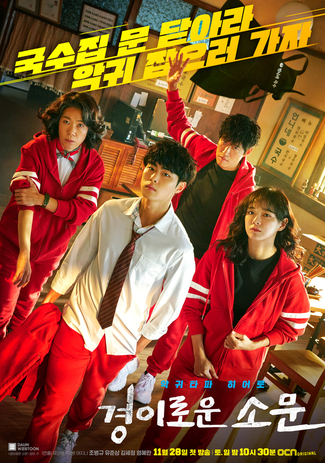 Genres: Mystery / Fantasy / Action
It is a series that is sure to please many people. Every episode that airs is always trending on Twitter. Fantasy series created from the famous Webtoon.
Plot: A group of demon hunters clad in red. Working at a noodle shop, they are "Counters" who are tasked from above to hunt down the evil spirits that lurk in human form. So Moon (Jo Byung Gyu), a boy who has an accident that cripples his leg. He became the youngest member of Counter. Make him stronger than ever and have to help the team on missions. and unlock some of his clues too.
Episodes: 16
Available: Netflix
Trailer series The Uncanny Counter
My Name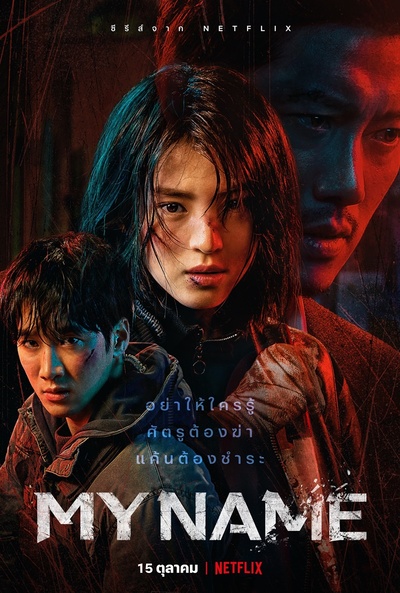 Genres: Action / Crime / Drama
Plot : Yoon Ji Woo, a young woman who saw her father killed before his eyes. She decides to join the Dongcheonpa. to find out the truth about her father's death and take revenge on her father's killer. causing her to enter the group by working for Choi Moo Jin as the chief executive. With Moojin's help and her efforts to find out the truth about her father's death, causing her to become a police detective in order to be able to lead to revenge.
Episodes: 8
Available: Netflix
Trailer series My Name
The most thrilling series of the year
Happiness
Genres: Action / Thriller / Fantasy
Plot : In the era of urban society with many people of different classes There has been a new epidemic. To prevent the spread of infection, these residential apartments have been ordered closed and confined. The residents struggle to find a way to survive. It shows the desires and fears of human beings. when life is threatened by so-called values ​​and values and having to survive the bad situations around.
Episodes: 12
Available: iQIYI
Trailer series Happiness
The most intense series of the year
Mouse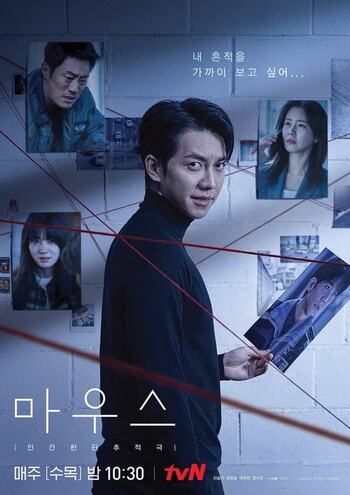 Genres: Mystery / Drama / Thriller / Crime
This story is rated 19+ because the content is quite violent and contains heartbreaking images. The plot is intense and peaks every episode, very attractive to follow.


Plot : The plot alternates between the past and the present. Back in the days when science was able to test the DNA of an unborn child for mental disorders. If we know that the child has a mental disorder. Will we still give birth to that child? And during that time there were famous serial killers who like to hunt people's heads. Has gone to murder a family, but a boy who survives and is a key witness leads to the murderer's arrest. And during that time, the murderer's wife was pregnant. which the unborn child has DNA, a mental disorder.
Episodes: 20
Available: VIU, iQIYI
Trailer series Mouse
The best romantic series of the year
Nevertheless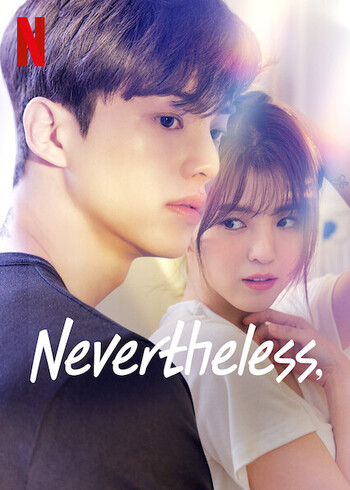 Genres: Romance / Drama
"Do you want to go see butterflies?" This phrase that has become very popular lately comes from this series. During the on-air season, this series is always on trend. The people who love the love scene must like this very much.


Plot : A series adaptation of the popular Naver Webtoon that tells the love story between Yu Na-Bi, a girl who doesn't believe in love but wants to date, and Park Jae-On, a handsome man who doesn't think about serious matters. with who He sees dating as annoying but wants to be in a relationship. causing both of them to be related.
Episodes: 10
Available: Netflix
Trailer series Nevertheless
The funniest series of the year
Mr Queen
Genres: Romance / Comedy / History
It's a series that aired in December 2020, but it's more likely in 2021. It's a very popular series with very high ratings, going up at No. 1 with a 14% final rating count. It's another series in my heart.


Plot : Jang Bong Hwan (Choi Jin Hyuk), a playboy chef who succeeds as a chef in the presidential palace, gets into a bullying accident by a colleague. causing him to come in the form of Kim So-young (Shin Hye-sun), the future consort of the Joseon era. who is about to marry King Chuljong (Kim Jung Hyun), who everyone says he is. puppet king Jang Bong Hwan must find a way out of the consort's body. How much turmoil will cause Wang? It also helped to change the tragic history of the King.
Episodes: 20
Available: VIU
Trailer series Mr Queen
The most heartwarming series of the year
Hospital Playlist Season 2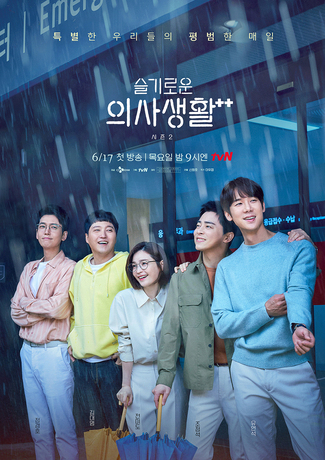 Genres: Medical / Drama / Life / Romance / Friendship
The first season of this medical series was so popular that the show's broadcasters, tvN, decided to release a second season. The return for season 2 also spurred ratings nationwide at 10.007%


Plot : The friendship of 5 doctors who graduated from the same medical university in 1999 and are still working in the same hospital. In Season 2, the doctor's life continues. And continue the story from season 1 that left a clue.
Episodes: 12
Available: Netflix
Trailer series Hospital Playlist Season 2
Hometown Cha Cha Cha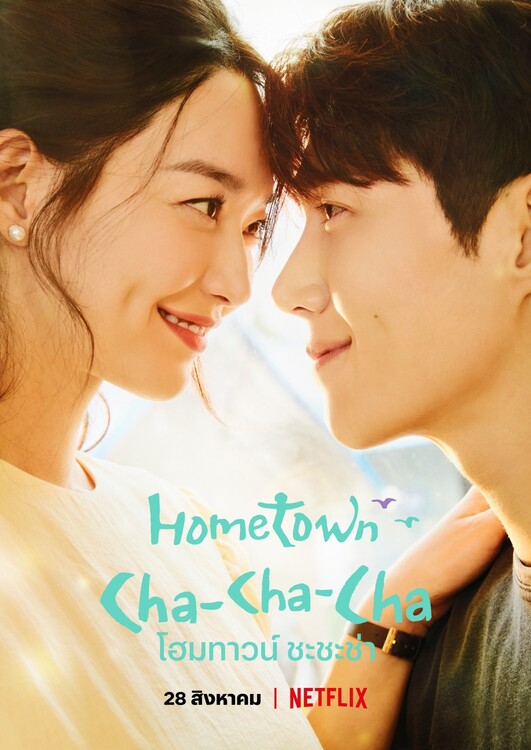 Genres: Comedy / Drama
A romantic comedy series that really helps to relax, heal the heart in bad times. The content is simple, not big, but it makes you fall in love with the people, places, everything in this series.


เรื่องย่อ : Feel-good romantic comedy story of Yun Hye Jin, a dentist who decides to move to Gong Jin, a small seaside town out of necessity. And she meets Hong Du Shik, or Chief Hong. A good-natured young man who was loved by the villagers. and seems to be hired to do everything that has it all The two met at a picturesque village by the sea. and although the two have completely different personalities, both will encounter events to learn about each other. Help develop relationships.
Episodes: 16
Available: Netflix
Trailer series Hometown Cha Cha Cha
The recommended series Can be viewed at various streaming services.
Netflix a popular streaming service movie collection Many series including its own content, Netflix OriginalNetflix Original
VIU a streaming service that provides a service to watch copyrighted Korean series with Thai subtitles. For VIU Premium members will be able to watch quickly. After broadcasting in Korea within 24 hours.
iQIYI , WeTV 2 streaming that focuses on content, especially from China, but there are also Asian series, both Thai. Korea has a lot as well.
For those who live abroad, can't watch any streaming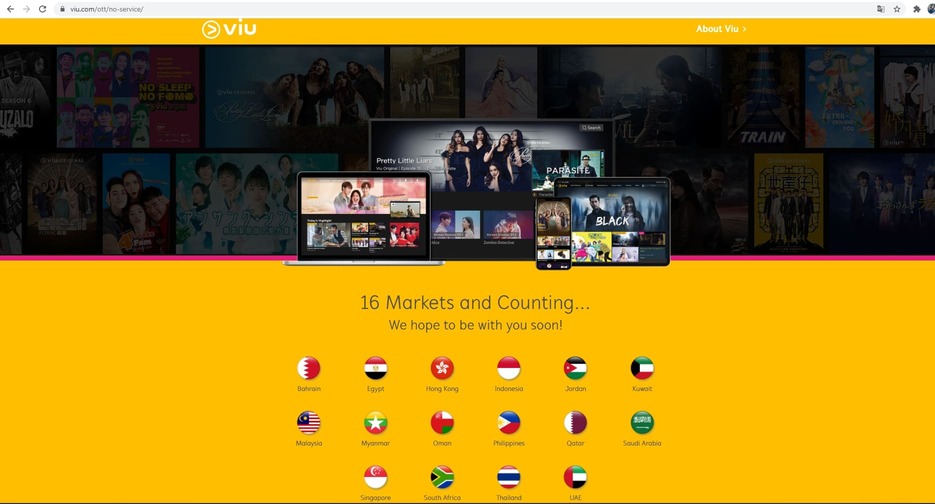 We offer BullVPN service to connect to Thailand servers. So you can watch the series on any streaming site. No matter what country you are in.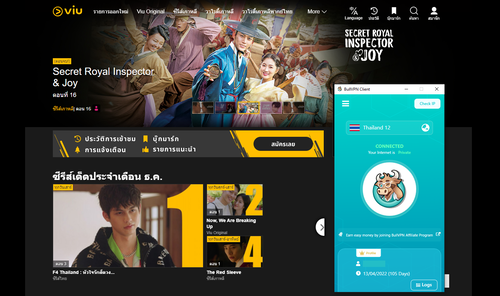 You can learn how to use it here
How to fix Whoops, something went wrong… Streaming Error Netflix Proxy Error?
How to watch Korean dramas in VIU
iQIYI Streaming China Movies and Video Content
WeTV Let's watch popular movies series from China