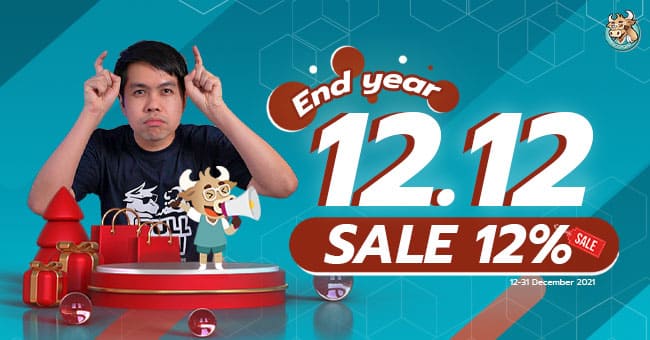 Come back again with a promotion for the end of the year 2021 that this year we provide customers with great value to celebrate the new year and thank customers for using BullVPN continuously.
This year, we have 2 annual promotions for customers to choose from, and in addition, there is a special event that BullVPN has organized with 9ARM on December 11, 2021. Therefore, it should not be missed by any means!
Promotion 12.12, discount up to 12%
For this 12.12 promotion, customers can choose 2 promotions together.
Promotion 1: When paying for 1 year, from the normal price of 1,400 baht, reduced to only 1,212 baht.
Promotion 2: When paying for 2 years, from the normal price of 2,800 baht, reduced to only 2,222 baht, free! 2 months. (60 days)
Promotion period: 12 December 2021 - 31 December 2021 time 23:59
Once the promotion has been received, you can still receive a Promo Code from 9ARM up to 2 Promo Codes.
Use code "9ARM" to get 2 days.
Use code "LOVE9ARM" to get 3 days. (

for Premium user only

)
Just put the Promo Code on your My Account page and you're ready to use it.
special! For visitors of LIVE 9ARM on December 11, 2021. Can win prizes within LIVE, including:
BullVPN T-shirt, 5 prizes
Promo Code 1 year, 1 prize
Promo Code 1 month, 5 prizes
Promo Code 15 days, 5 prizes
So don't miss LIVE 9ARM x BullVPN on 11 December 2021 time 22:30 onwards.
Promotion conditions:
It cannot be returned or exchanged for cash in any case.
Able to pay in all channels to receive promotions.