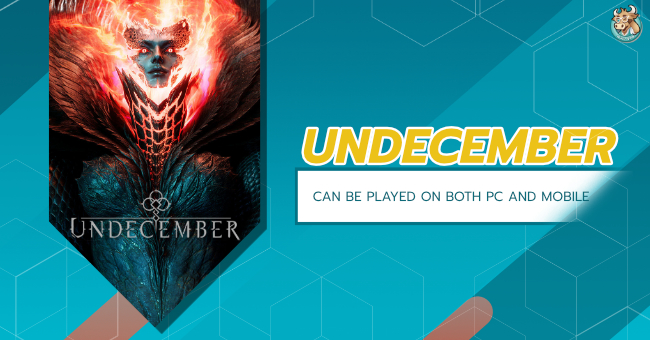 Today, I'd like to offer another fun online game. With "UNDECEMBER," an online Action Hack & Slash game in MMORPG format from developer Needs Games, the game will soon be available on a global server. Now it's your turn, gamers. Some groups have been playing on the South Korea [KR] server, which is now open to the public. So, what draws so many Thai and international gamers to this game? Since the first day of service, the so-called western player type has been creating serious English translation mods to be used. Today's task will be to familiarize ourselves with the game.
The game's story revolves around the birth of the world 'Serpence, the god of evil,' who is born 13th after all 12 light beings have been born and have shared their abilities. Serpence, blind to the 12 Gods of Light, wrath, envy, and envy, resolved to flood the earth with darkness, hatred, and hatred while looking away. It had spawned demons on all of the continents. Then it's up to us to subdue the Serpence and discover a means to stop it from spreading further.
In terms of gameplay, "UNDECEMBER" is an Action Hack & Slash game in the form of an MMORPG with a Diablo or Path of Exile feel to it. "There is no class system in the game." Players can select the type of attack weapon they want to utilize. Swords are used for melee attacks, bows are used for long-range attacks, and magic wands are used to discharge magical bullets. Players, on the other hand, can mix and combine styles of play endlessly. We can perform a melee physical attack line with some magic to add more damage, or cast two spells at the same time, etc., by equipping the so-called 'runes.'
All of this is up to the player to install the various 'runes' that this game offers. We may also 'Rune Link' runes used in various assaults to make them more effective. It can also be linked to other runes if that is possible. As a result, the characteristics of each player are not fixed in any way in this game. As if Ajanut were a magician. When facing powerful monsters, medicine isn't always effective, thus the "summon line" can be used instead. We have the ability to call creatures to aid us in our fight. Then, as we go, we may choose which runes to install. These creatures will greatly assist us in doing damage and taking the brunt of strong monsters' attacks.
The world of "UNDECEMBER" will be distinct from that of other online games. In fact, we can meet people and establish friends in the city, but if we travel outside of the area to level up, we will divide the zones. Which is considered to be very good, and if we want to play with friends, we may invite them to a party starting at level 1, and we can play with up to four people at once, which is the benefit of partying together. "It will boost experience, EXP, and the pace at which items drop." Then, a four-person party will warp our group to a specific zone where only you and your pals can play.
Another unique feature is that the game's "weapons, armor, and accessories" cannot be traded or sold. However, we can bring those products to the auction market to sell. We can also develop or randomize that item from standard to high-end. There are materials in the game that can choose equipment options at random or evolve it to the highest level. It's quite difficult to randomize things in order to get the alternatives you want, but believe me when I say it's worth it! We'll play that line if it's arrived. It's also something worth putting money into.
"Can this game live for free!" is a question that many people have. We can assume that this game is unrestricted. Because, like myself, I've never added a baht to a game on the South Korean server [KR]. Personal costumes were uninteresting and not particularly attractive. But what is worth buying is probably the Pet Skill Coins that will help collect items from monsters we kill. As for the purchased pet, it only looked cool, so the 'Pet Skill Coin' was a necessary item. Then, which seems equally necessary, is 'Inventory and storage' because this game's drop is played with a lot of materials, if you really buy it, it's character's inventory or storage. personally did not buy Just choose to store what you need.
As for other content in the game "UNDECEMBER", there are many things waiting for players to do, whether...
● The storyline in the game is intense and very addictive.
● Chaos Dungeon is an End Game content that players can enjoy after completing the main story.
● Encountering a strong raid boss Players must cooperate with up to 8 other members, if successful they will receive items as a reward.
● The holy war of honor For anyone who likes PvP, this game has it too.
● Guild system: Players can help support the guild in order to receive buffs. There will also be some runes that are only sold in the Guild Shop.
● The game can be played online cross-platform for both PC and Mobile as well.

LINE Games, the game's publisher, aims to release "UNDECEMBER" on global servers in Q1 or around January-March. It will be available for purchase on Steam. Important! The game is available in a fee-to-play basis and supports the entire Thai language. Anyone who is interested in properly preparing Alternatively, you can download and play this game from the South Korean server [KR], which will not be harmed.
You can visit and talk in Thai people by following this link.
https://www.facebook.com/groups/undecemberthailand
Follow UNDECEMBER on the Steam store at
https://store.steampowered.com/app/1549250/
If you and your pals enjoy playing online games in Thailand and elsewhere, The most important thing is to play without interruption, and if you're having trouble with the internet, We recommend using the "BullVPN" which will allow you to play the game without interruption. It also gives you access to games that are IP-blocked. Importantly, BullVPN is a VPN tool with custom routing, allowing you to do other things while connected. Without having to be concerned that, like other VPN apps, ours would slow down your internet speed.