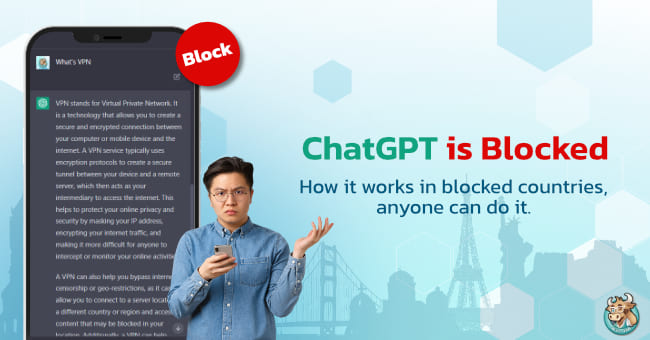 The response to ChatGPT in Thailand has been extremely popular. Regardless of the industry, incorporating AI to assist in work processes can greatly enhance convenience and reduce the time required to complete tasks, making them more efficient. Even in other countries, ChatGPT developed by OpenAI has garnered similar interest.
ChatGPT has a wide range of capabilities, including language translation, creating automations, quickly generating code snippets, coming up with interesting article titles, and many more. Its versatility makes it a valuable tool across various tasks and industries.
ChatGPT is blocked from outside the country.
Of course, there are certain countries that have restrictions or laws that do not allow the use of ChatGPT, such as China and Vietnam. However, if you travel to these countries and wish to use ChatGPT, you can easily connect to the BullVPN service to access ChatGPT.
Countries and regions where ChatGPT is not available
China
Hong Kong
Iran
Russia
Macau
North Korea
Egypt
Ethiopia
Syria
Afghanistan
United arab emirates
Some countries in Africa

Examples of ChatGPT usage in restricted countries
Example image of using ChatGPT after connecting to BullVPN
By doing so, you can access the ChatGPT website from countries such as China, Vietnam, or other countries that have imposed restrictions. Furthermore, you can also use BullVPN to access blocked websites both within and outside the country.