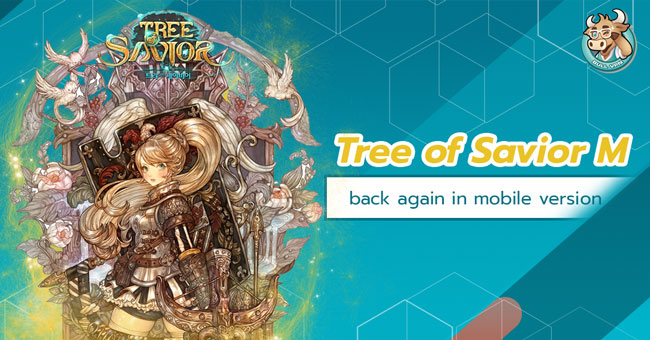 Hello! We've seen a lot of online MMORPG games that have been chosen to start new industries in the previous several years. One of these is 'Tree of Savior' the well-known online game from the designers of Ragnarok Online, which has now launched for testing under the new moniker "Re: Tree of Savior or officially Tree of Savior M." The game was published in CBT on the South Korean server [KR] in mid-December, and IMC Games, the game's creator and publisher plans to put it on the global server by 2022. Importantly! Also, support the Thai language.
Game trailer
Prior to the release of Tree of Savior M, IMC Games released a test game called "Re: Tree of Savior," in which the game's Thai language may be changed. The players' current trend is positive. And if you liked the first Tree of Savior game, you might be even more thrilled with this one. Because the game has evolved into a more fascinating game system. With the inclusion of new systems that have been added to make the game "Tree of Savior M" look even more intriguing, such as the small spirit system and the follower system, etc., the game "Tree of Savior M" becomes even more exciting.
Starting with a total of four major classes in the game "Tree of Savior M" each class will be divided into four career pathways. 'There will be more than 80 classes in this area,' and the gaming in this sector will be unique. "Players can swap classes at any moment". However, in the game, players must first unlock each class before switching between them. When a new player joins the game, The plot is identical to that of the original game. However, the "Little Sprite System" has been added, which will have specific features and skills that will aid players in times of crisis, among other things.
And as we continue to play, the game will reveal another intriguing structure. "Follower system" is a term used to describe a system that allows people to follow Emotions, such as the many classes of NPCs in the game, which will assist players in leveling up. They all have the same highest rating, 'UR,' which can be improved with a random character book of the same level. Duplicate UR-level random characters. We can level up and gain more skills by upgrading a character.
The gorgeous costumes, high-level leprechauns, and UR-level [NPC] followers that will help them may inspire gamers to pay a lot of money for "Tree of Savior M." Maintain a more convenient level for us. There are also various kinds of things that will help our characters develop more quickly than before. It is up to the players to decide whether or not to purchase it. Alternatively, they will collect and trade for spirits or followers it is debatable.

Let's take a look at the "gameplay system." The game's Auto-attack system is quite well-designed. Players rarely have to use the skill; all they have to do is tap the Auto-attack button. When confronted with powerful monsters, you may have to force them to reduce their attack moves a little. Otherwise, our character, who doesn't have a great defense, might perish right away. Another feature we enjoy is how well the "follower A.I. system" works, and how some classes have dodge and attack moves. In other games, they prefer to stay in the same spot, seldom evading opposing assaults and frequently allowing themselves to be attacked. Important! When we are attacked, NPCs will hurry to assist us in dealing with the attackers as soon as possible. referred to as obligation protection.
However, I'd like to add although there is a UR rarity, each callout will have a diminishing cost of tiredness, thus we'll need to recruit alternative characters just in case. Take it as well so that you can utilize it alternatively when your main body is fatigued and you need to wait for it to recover its fatigue before running again.
Overall, "Tree of Savior M" proved to be a good fit for players. It depends on what other information is released in the future. Because it's done really well in PvE mode. Going through hellish dungeons or riads in order to combat powerful monsters. This game is performing exceptionally well. Personally, I believe that the 'game is truly Pay-to-Win' is sufficient, but that doesn't make the characters intelligent or divine in the first place. However, if we desire high-level spirits or followers, we will have to pay a small fee. Let's imagine we meet Tree of Savior M on the Global server in 2022.
If you and your pals enjoy playing online games in Thailand and elsewhere, The most important thing is to play without interruption, and if you're having trouble with the internet, We recommend using the "BullVPN" which will allow you to play the game without interruption. It also gives you access to games that are IP-blocked. Importantly, BullVPN is a VPN tool with custom routing, allowing you to do other things while connected. Without having to be concerned that, like other VPN apps, ours would slow down your internet speed.