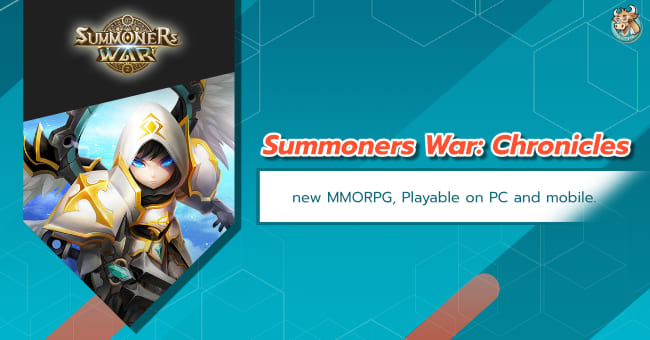 Recently, many online games are starting to open for testing or preparing to open several games together. And one of them is "Summoners War: Chronicles," the new installment of the series in the Summoners War universe that returns in this installment as an online MMORPG game from developers and provider Com2uS, which has opened. Tested the game on March 30th, I can tell you that "who doesn't like the strategy game in the previous installments, this part will answer a lot of players." Today we will take everyone to know this game. Let's see how interesting it is.
The story within the game "Summoners War: Chronicles" tells about Tefo, the King of Galagon who hears a voice from the past. He plans to open the Earth's rift and wage war to bring back the creatures from ancient times to Earth. But the war suddenly ended. When Tepho was sucked into the volatile earth fissure. After Tefo disappeared The Rahill Kingdom seemed to return to peace again. Until there were many rumors about Tefo's return. The unrestrained peace and the unhealed wounds of war. It trembled again. The Rahill Kingdom is waiting for its heroes to stop Tefo's evil plans and maintain peace. Now the story of your adventure as the Guardian of Rahill begins!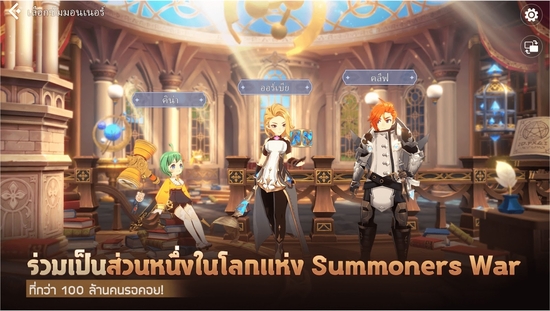 Starting the game in this game, this game character is called "Summoner". There are 3 players to choose from. Guardian Clive, Mage Orbia, and Healer Kina. In which we can freely customize the character, even if it does not adjust anything much. For our main character will be the main story line, it is up to the player to choose which line to play. In the end, other monster characters, we will have to find other lines to add to the team. In the storytelling in this installment is intense and fun. Plus the game supports Thai language as well. It translates well with beautiful cutscenes. In this section, it came out very well.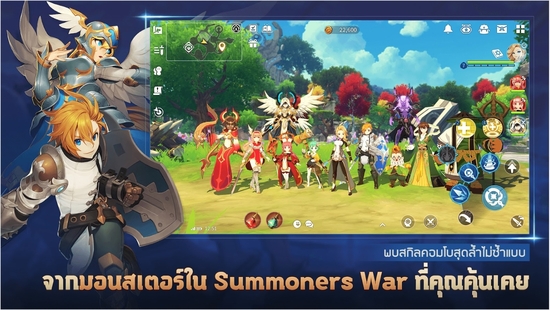 In terms of the gameplay system, it is an MMORPG style where we tap on quests and walk to talk to various NPCs, collect items, kill monsters or go down various dungeons. These "Summoners", where we have to form a team of up to 3, where we can find monsters to summon. And which monsters we choose to be in the team can use those characters' skills when necessary. While adventuring in different map scenes, this game has puzzles for us to find and collect. Because there will be both treasure chests and various items, there is a chance that we will also receive rare items.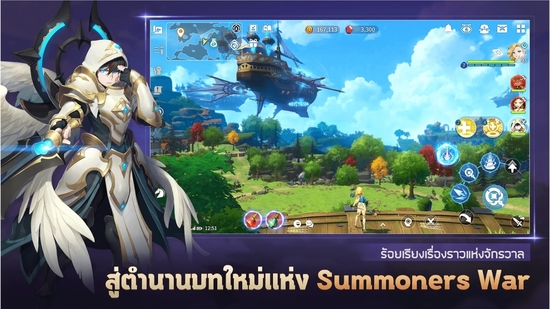 In terms of the in-depth gameplay system of "Summoners War Chronicles", the game can be equipped with a variety of weapons. for example, If we play magic. We can equip different elemental weapons to switch to other elemental weapons and attack skills will also change according to that element. At this point, we will be strong in Upgrading character skills When we had to go down to the dungeons, the gameplay system turned out to be quite good. because we will not be able to Auto let it play itself But we can command other monsters to attack in any form. There is also a gimmick in destroying the surroundings or fulfilling certain conditions to pass. At this point, Ajanut would like to see it.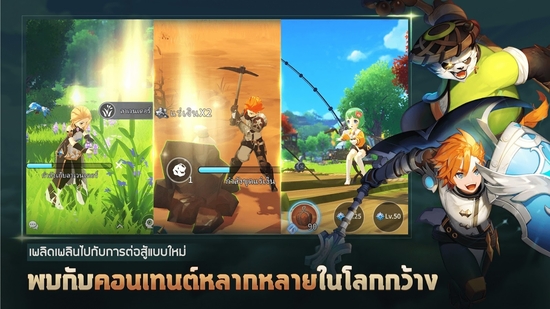 Let's talk about the characters of the "Summoner" a bit. The fact that we will upgrade these characters will mainly focus on increasing the level of various skills. Many of the skills of this game depend on the players who plan themselves to be able to play. What kind? But it's still good that the game is able to let us reset it at any time. Allows players to upgrade the playing line as they want. As for monsters, upgrading the conditions is not difficult. Use the experience items [EXP] that can be obtained from quests, and dungeons and the conditions are very easy to drop. Monster skills can use any monster's parts depending on how much the monster needs. As well as leveling up monsters, monster parts are also used.
In addition, within the game "Summoners War: Chronicles" there are many other interesting systems such as Fashion outfit system that can enhance character attributes, a lot of sub-story quests for us to do!, Rune system that will increase the efficiency of our monsters. Which is a system that is based on the Summoners War series or daily events that will allow players to do a lot, the more we have a guild, it will make us have more fun.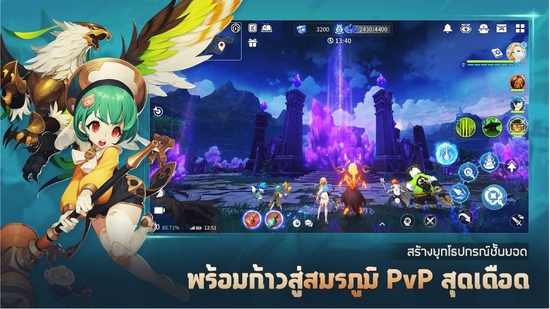 At the moment we write this article, the game "Summoners War: Chronicles" is not yet available. And it is considered a sector that will be open for both PC and Mobile platforms, which can be played across platforms as well. Anyone who is a fan of Summoners War can wait to play it.
Follow the news of the game "Summoners War: Chronicles" the link below.
● Summoners War: Chronicles - Website 👉 https://www.summonerswar.com/th/chronicles#main
● Summoners War: Chronicles - Community 👉 https://community.summonerswar.com/chronicles/th/board/all
If your friends like to play online games both in Thailand and abroad on their smartphones. The important thing is to play smoothly and without interruption and some games may have IP blocking. It also allows access to IP-blocked games. BullVPN program is a VPN program that can be used on both your mobile, smartphone, or PC. So if you want to play a good smartphone mobile game, you can connect and play smoothly. Don't believe it! Let's try to use the service.