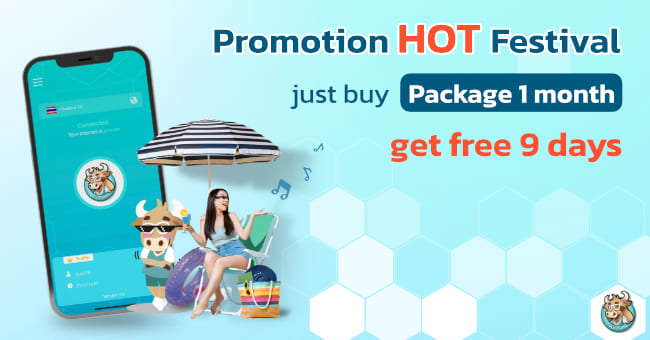 When the sun is scorching, shield your hands with it. But if your heart is broken, reach out for help. Come and grab the hottest monthly promotion of the year. We have something special for our monthly subscribers. Don't miss out this time, or you'll regret it next year. So, make sure you don't miss this opportunity!
Promotion May 2566
Buy plan 1 month 179 Bath
Normally, you'll get 30 days of usage. But We're feeling generous and giving you an additional 9 days, making it a total of 39 days! (A great deal!)
Special!! For customers who already have an active day can also receive promotions. The system will increase the date of use from the original no deduction for sure.
✅In addition, customers can also increase the number of connections (Add connections) with this monthly promotion. You can see how to increase the number of connections here.
⏰From 5 - 19 May 2023
Terms of Service
1. Promotion can not be refunded (Refund), the conditions are as specified by the company.
2. The promotion cannot be exchanged for cash.
3. This promotion is for Website online purchases only.