Hello, I have to say that now the battle of Chinese-style online games is the internal strength of Thai servers. It's so fierce, spicy, and fun, especially on the Mobile platform that has a runner to play on PC smoothly without using an emulator to waste time. And now there is one game that has already been launched in Thailand with "Huang Yi Mobile: Dragon Time Drill" that has a large service provider like PlayPark as a caretaker. How fun will this game be? By the mind of a Chinese gamer with inner strength or not? Let's get to know more about this game.
For "Huang Yi Mobile: Time Drilling Dragon Shaking the World" or in the official English name "HuangYi Mobile" is an online MMORPG game with a Chinese inner strength theme that combines a futuristic sci-fi world. Developed by Chinese Gamer who is full of fun in terms of content within the game that comes directly from Huang Yi's pen. Which the story will refer to all novels, whether Digging into time to find Qin Shi, the Dragon of the Ten Direction, or the World-Shaping Devil God. Each story, many people must know and be familiar with either in the form of a novel or a movie series. come more or less
The contents of the game "Huang Yi Mobile: Drilling the time of the dragon shakes the world" according to the title. You will take on the role of a soldier who conducts some kind of experiment by traveling back in time. To find and research the history of how it came to be, but suddenly an unexpected event caused this time reversal to go wrong, leaving us stuck in ancient China. Causing us to learn to live in this world and find a way to contact people in the future in order to travel back to our own world. Well… just the plot is interesting, isn't it?!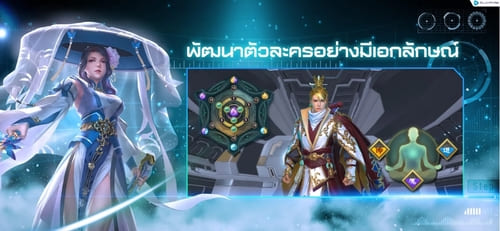 Let's continue to talk about the gameplay in the game "Huang Yi Mobile: Time Drill, The Dragon Shakes the World". The game is a Chinese MMORPG style with inner strength. Start the game, we will only be able to customize the character. As for weapons in the game, players can practice, learn and switch freely. Weapons in the game will consist of swords, swords, fists, spears, and batons. Each type of weapon will have a different style of play. Players must practice the use of breath before being able to use the skills of that weapon. As an online game on mobile phones, the game has an "Auto Attack System" We can set various combo skills as well, which attack skill to use, which buff skill is or set various recovery powers, it will be in the category "A.I. "
Actually, in the part of the "AI system." Collect the desired items or repair items if the weapon or armor of our character has a notification that it is close to breaking, etc. In addition, the game also has an "Auto Quest System" that allows players to enjoy this game easily. Just click on different quests to talk to NPCs or if the quest is a monster management style. It will walk to the specified goal and start doing that quest immediately. But there are some quests that we may have to read a little more about at this point and what it wants us to do, such as buying items from NPCs. However, don't forget to read some quests as well.
Let's talk about the "quest system" a little more. The game will have a lot of quests for us to do. Both main quests, secondary quests, time dimension quests or various activity quests in which the game "Huang Yi Mobile: Drilling the Time of the Trembling Dragon" has a lot of activities for us to do. yes If we want to develop a strong character, we can go down dungeons in different ways to get items. Including items that will help increase the power of our characters a lot. Every time the character levels up, we will get points to bring up different stats to match the line we want. Will play, plus there is a "mental state system" that divides the playing style endlessly. Or is it a life skill? There will be mining, planting rice, mixing medicine or creating, as well as having a trading system that allows us to send items or items to other players.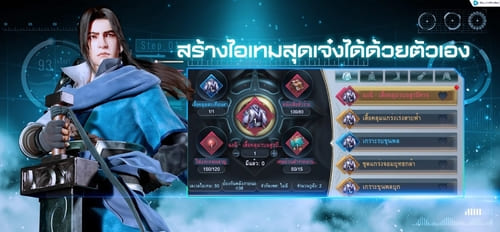 And when we play for a while, the game will require us to choose a party or sect to stay in. It will consist of a Buddhist sect, a Taoist sect and a devil sect. Joining will result in us learning the party's regular skills or That school also includes quests that we have to do in order to unlock advanced skills for us to use. Each sect or sect will have a difference in skill abilities. So read the details carefully before choosing.
Personally, the game "Huang Yi Mobile: Time Drilling Dragon Shakes the World" is one of the MMORPG online games with a Chinese theme of inner strength that has a lot of side-by-side systems. It's called explaining for sure for hours before I can say it all. For the game, it's now officially open for service. able to download the game to play on their own smartphone mobile platforms, both iOS and Android systems, or anyone who is not comfortable playing on a PC through a runer designed to play this game smoothly There are too. You can download and follow the details at the link below.
Download the game Huang Yi Mobile: Time Drilling Dragon Shaking World the way to contact various servers can follow the link below.
● Huang Yi Mobile - Website 👉 https://huangyimobile.playpark.com/th-th/
● Huang Yi Mobile - Facebook Fanpage 👉 https://www.facebook.com/HuangYiMobileTH
● Huang Yi Mobile - Download for PC 👉 https://huangyimobile.playpark.com/th-th/download-pc/
● Huang Yi Mobile - Download for iOS 👉 https://apps.apple.com/us/app/หวงอ-โมบาย/id1577494466
● Huang Yi Mobile - Download for Android 👉 https://play.google.com/store/apps/details?id=com.playpark.hym
If friends like to play online games both in Thailand and abroad on their smartphones. The important thing is to play smoothly, without interruption, and some games may have IP blocking. Including also allowing access to games with IP blocking as well Most importantly, the BullVPN program is a VPN program that can be used on both your mobile phone, smartphone or PC so that you want to play good mobile phone games, connect and play smoothly. do not believe it! Let's try to use the service together.