Currently, the installation of a TV antenna or satellite dish is unpopular now. Because some homes have limited space, making it difficult to install, people are turning to use Smart TV or Android TV instead, and in addition, the problem that every large family has experienced that is everyone always fights to watching TV. Some people of working age, school age. Who lives in a Dorm or a Condo alone and doesn't know which TV channel to watch.
BullVPN recommends the Loox TV app as a solution to all problems. All you have to do is download the LooxTV application that is available for both iOS and Android devices. LooxTV is a mobile phone or Android TV application that allows you to watch live TV online. Rewatch TV programs, all channels, including free TV, digital TV and satellite TV, more than 50 channels! All you need is the Internet to watch TV from anywhere, anytime.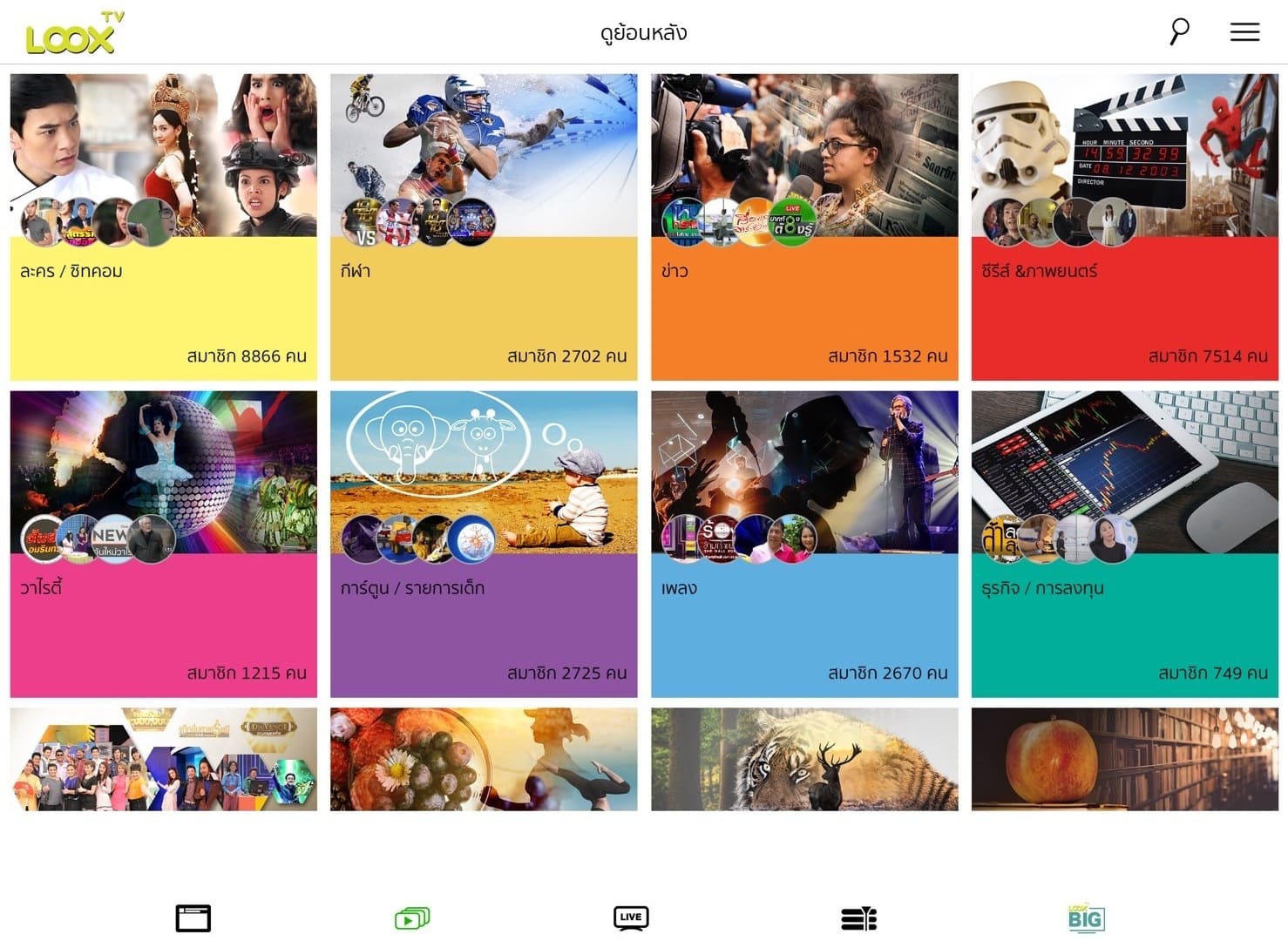 Features in LooxTV
1. Don't have to remember tv channels. You can choose which channel you want to watch.
There are hundreds of TV channels, and you must remember what the number of the channel is, but Loox TV has solved this problem by displaying an image of the specific TV channel, which is separated into categories and contains information about that TV channel. You can use the search box for shows, dramas, or content that you want to see.
2. LooxTV has a recommended TV channel.
For those who have problems turning on the TV but don't know what to watch, the Loox TV application has a feature that suggests TV channels for you to watch instantly without having to think.
3. Has more than 50 TV channels to choose from.
LooxTV provides news content, dramas, sports, variety shows, game shows and other programs from famous channels such as Channel 3, Channel 5, and Channel 7. People who enjoy watching movies, there is also channels MONO29 and ONE, while sports fans can watch live football, boxing, volleyball from channels True4U, Amarin. Furthermore, The Cartoon Club channel is also available for children to watch cartoons before going to school or before bedtime. It can be said that it covers every lifestyles of all ages.
4. View broadcast schedule and set broadcasting notifications for each channel.
In order not to miss out on watching live broadcasts from different channels, the LooxTV application has a detailed program schedule for each channel's broadcast. In addition, if you have favorite channels and want to watch every time there is a live broadcast from that channel, you can turn on the broadcast notification of that channel as well.
5. Can rewatch the drama or other content on TV.
Working day, school day, or weekday. We may not have enough time to be able to watch live TVs. LOOX TV app can help you watch your favorite TV shows back and be divided into categories, whether it is a drama or sitcom such as Revenge from the past, Cheating Spouse, You Are My Heartbeat, Pen Tor, and many more.
How to watch the LooxTV app abroad?
Picture 1 : Before connecting BullVPN, the system will show the message "Not available in your country."
Because the LOOXTV application was created by Thai Advance Innovation Company Limited, which makes the drama or content is protected by the copyright of the company, which is located in Thailand. Therefore the LOOXTV application is only available to watch in Thailand.
BullVPN is ready to serve everyone. Don't be afraid, even if you are abroad. Just download BullVPN and connect to the Thailand server. You can watch online TV via the Loox TV app immediately! Let's see the steps.

1. Download and install BullVPN application.
Can be downloaded and installed on both PC and Mobile => Click here to download and install BullVPN.
2. Select Thailand server.
Because other countries are outside the service area of the LOOX TV app that can only be watched in Thailand, so you must connect to the Thailand server. BullVPN is the number 1 VPN in Thailand and has more than 30 Thai servers to connect.
3. When you have successfully connected to the VPN. Now you can watch LooxTV already.
Once you connect to BullVPN and the system shows the message "CONNECTED" is displayed, you are ready to watch online TV and other content from LooxTV. Let's say goodbye to the satellite dish at home!
Picture 2: After connecting to BullVPN, you can now watch TV online in the LooxTV app.