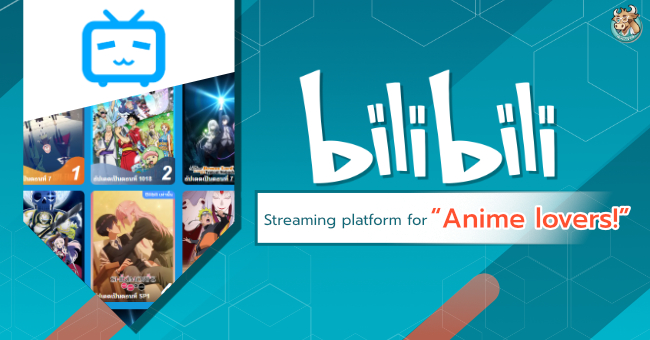 The popular Southeast Asian video streaming platform with animations, comics, Korean series and content created by User Generated Videos (UGVs) creators, BiliBili has launched for use in Thailand in November 2020 to fill the lives of Thai teenagers and a whole group of people who like anime, otaku or content creators have space to create or watch different content. completely, without wasting any money! And in the future, there will also be many varieties of anime to fill the everyday lives of the new generations like us to enjoy fun and happiness for free throughout the year.
Why should you download BiliBili?
1. It is a free anime video streaming service with subtitles.
   Anime fans who are ready to attack titans, find pirate treasures, or want to be Hokage, BiliBili is here to immerse you in the world of massively licensed anime. There is also a Thai subtitle to read as well.
2. A live-streaming platform that lets everyone be themselves.
   It's not over yet!! Furthermore, BiliBili is a community resource that allows people with a passion for content production to upload your videos, such as live broadcasting, play mobile games, fan art, etc.
3. There are subtitled Korean drama and series.
   Not only Japanese anime. For fans of Korean movies or K-series, you can watch content or series with subtitles for free such as Running man, A superior day, Dr. Park's clinic, etc.
How to watch BiliBili if you're not in Southeast Asia.
Picture 1 : Before connecting with BullVPN, Website will display a message "Sorry, according to the request of the copyright owner, this film is not available in your area."
     Because BiliBili is only available in Mainland China, Hong Kong, Taiwan, Macau, Thailand and South East Asia. So other countries are not covered by the service , but!! BullVPN has a way to watch BiliBili outside of the service area. You can watch it even you are abroad! Just connect to the VPN and follow the 3 steps below and you will be able to watch BiliBili for sure a million percent~
1. Download and install BullVPN application.
   Can be downloaded and installed on both PC and Mobile => Click here to download and install BullVPN.
2. Choose the server as the country that BiliBili is available.
   BiliBili is available in Southeast Asia. Therefore, it is necessary to connect to countries that BiliBili only services available such as China, Hong Kong, Singapore, Vietnam, Thailand, etc.
3. When you have successfully connected to the VPN. Now you can watch BiliBili already.
   Once you connect to BullVPN and the system shows the message "CONNECTED" is displayed, you are ready to watch anime and other content from BiliBili. Are you ready to become Hokage?!!
Picture 2 : Now you can watch anime from BiliBili after connecting to BullVPN.