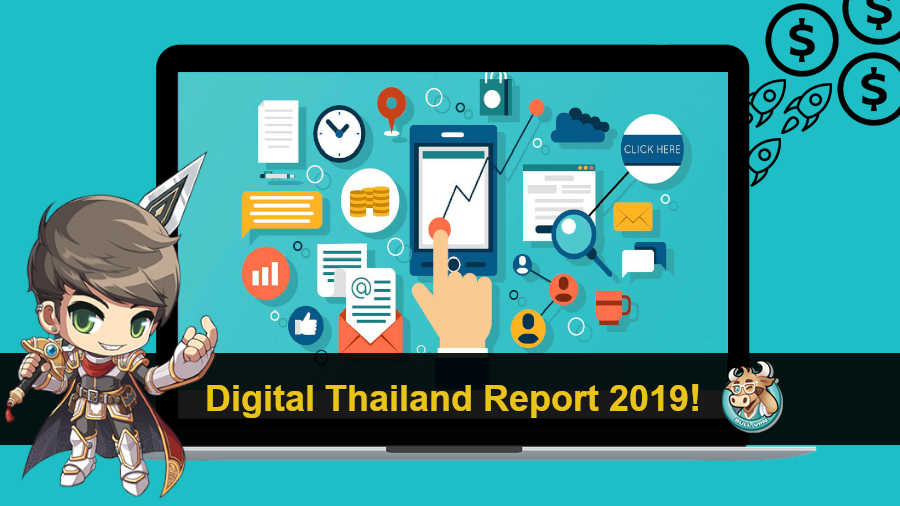 1. Most Thai people of the country Access to the internet and use social media by mobile phones
Thailand has a population of 69.24 million, divided into 51.3% women and 48.7% men, 50% of the total population. Live in the city.
There are 92.33 million mobile phone numbers, which is more than the entire Thai population. This means that many people hold more than 1 number.
57 million people have access to the Internet, with 55 million people using the internet on a mobile phone regularly.
51 million people use social media regularly.
49 million people use social media by mobile phones.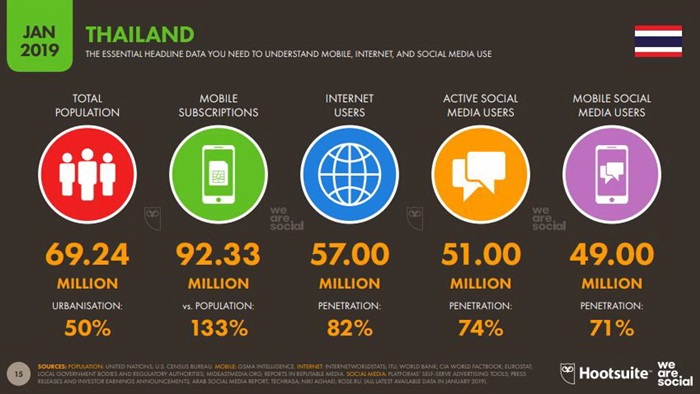 2. Adults use the internet via mobile phones. And still receive TV media.
Thai people in adults With almost everyone's mobile phone By using the internet via smartphones 71% and through computers Whether it is a desktop or a 25% notebook and 12% tablet access.
98% of Thai adults Still accepting television media.
There is only 1% of Thai adults who watch online streaming via television.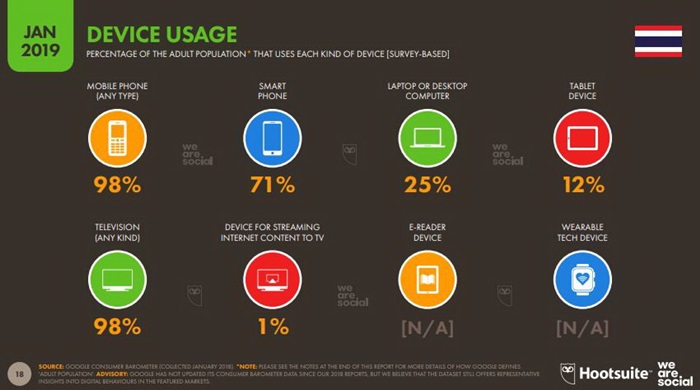 3. Thai people spend more than 9 hours a day on the online world.
Average Thai people Use the internet 9 hours 11 minutes per day.
Spending time with Social Media 3 hours 11 minutes per day.
Spend time watching Online Streaming or Video On Demand 3 hours 44 minutes a day.
It takes 1 hour and 30 minutes of music streaming.
4. 90% Thai people who use the internet every day "Google.com" the highest access website.
90% of Thai people using the internet Use the internet every day.
Only 8% use the internet once a week and 2% use once a month.
Google.com is the rank number 1 website that most Thai people use, followed by Google.com, Facebook.com, YouTube.com. In addition, the Thai website portal is also ranked as Pantip.com and Sanook.com.
Reflects that if the marketer And brand owners will do digital marketing. Still need to focus on Search Engine along with Social Media platform and Portal Web.
The top Google search terms in Thailand are "บอล" ตามมาด้วย หนัง, ผลบอล, แปล และหวย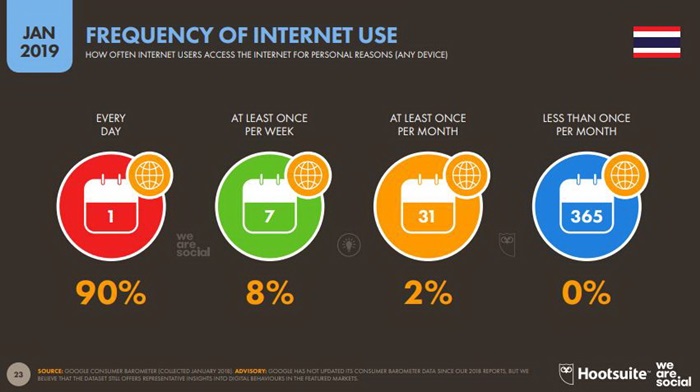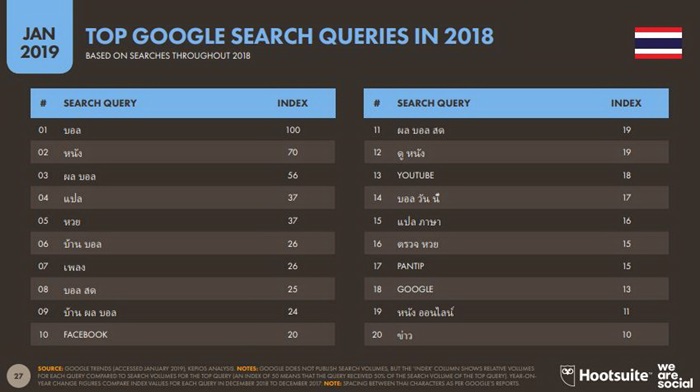 5. Watch Online Streaming.
Popular Online Streaming is watching video streaming (98%).
Online TV (53%), Game Streaming (36%), Live Game Streaming (31%) and E-Sport (20%).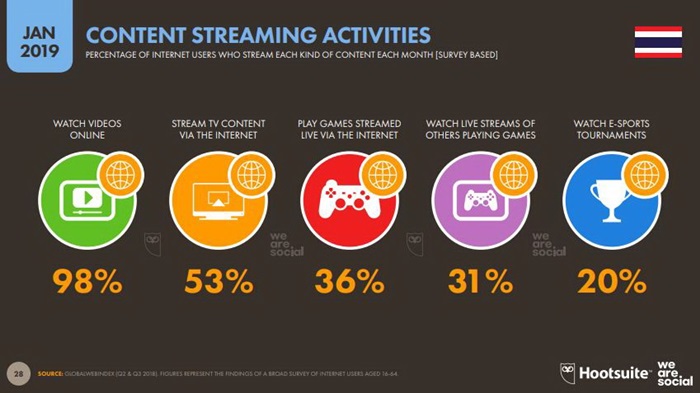 6. "Facebook" also ranks number 1 on social media.
Top 10 of the popular Social Network and Messenger in Thailand include Facebook, YouTube, LINE, Facebook Messenger, Instagram / Twitter / Skype / LinkedIn / Pinterest / WeChat.
When comparing access to "advertising" on various social network platforms, it found that "Facebook" is still a platform that Thai people access to advertising on social media as much as 50 million people, followed by Instagram 13 million people / Twitter 4.7 million people. / Snap Chat 555,000 people / LinkedIn, over 2.4 million people.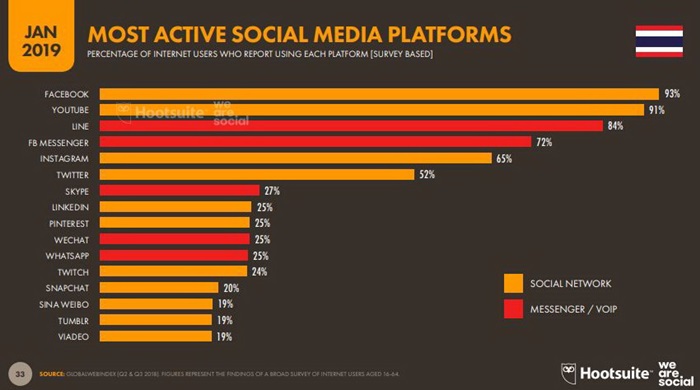 7. Top 10 Search Terms on YouTube "บุพเพสันนิวาส"
The search query that Thai people find the most on YouTube, #1 is เพลง / #2 หนัง / # แดน / #4 วิธี / #5 ผี / #6 การ์ตูน / #7 เพลงใหม่ / #8 ตลก / #9 บุพเพสันนิวาส / #10 หนังใหม่
From the Top 10 Search Terms Reflecting the "YouTube" usage behavior among Thai consumers Mostly used for "Entertainment media" that watch music, movies, cartoons and drama.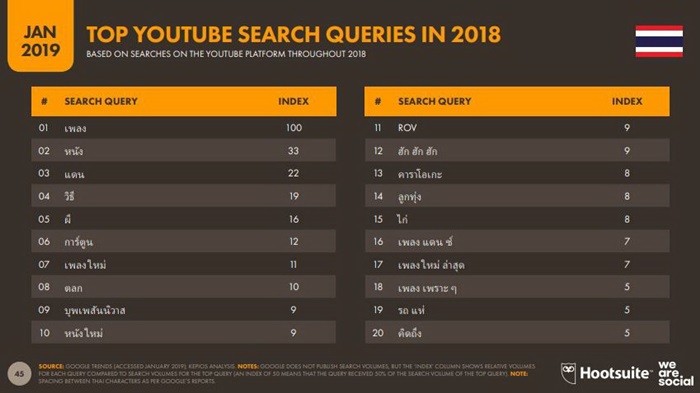 8. Thai people download more than 2,000 apps spending through the app more than 500 million US dollars.
In the year 2018, Thai people downloaded 2,046 million mobile applications.
The amount of spending via various mobile apps is not less than 532 million USD.
In a smartphone that Thai people hold On average, install 99 applications.
Installing a lot of mobile applications But Thai people actually use 38 apps per month.
9. LINE, Facebook is the app that most Thai people use Netflix. The app has the highest revenue number 2 ranks.
"LINE" is the most popular Thai application in 2018, followed by Facebook, Facebook Messenger, Instagram and LAZADA.
"Facebook Messenger" is the most downloaded Thai application in 2018, followed by Tiktok, Facebook, LINE and LAZADA.
Mobile App Ranking that made the highest revenue in 2018,The First, "LINE". The second is "Netflix". The statistics show that Online Streaming, like Netflix, began to play a role in everyday life. and more of Thai people.
10. "Search for products - shopping" Popular activities on e-commerce.
90% of e-commerce activities are searching for products and buying products online.
71% online shopping Via mobile phone.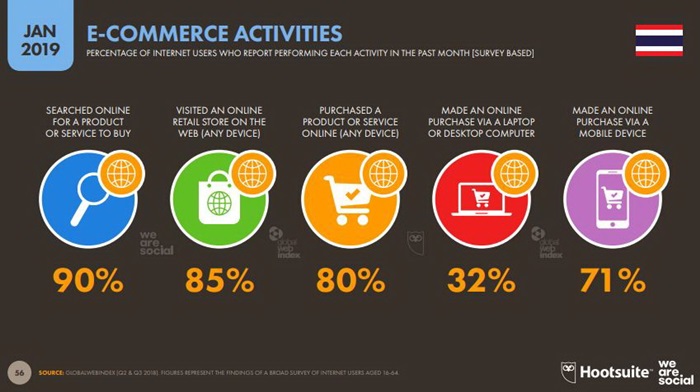 11. Thai people use voice-activated technology. And use the application to call a taxi.
45% of Thai people using the internet, Use voice-activated technology.
20% of Thai people using the internet, Use the application to call the car.
46% of Thai people using the internet, Use Ad-Blocking tools.
36% of Thai people using the internet use VPN.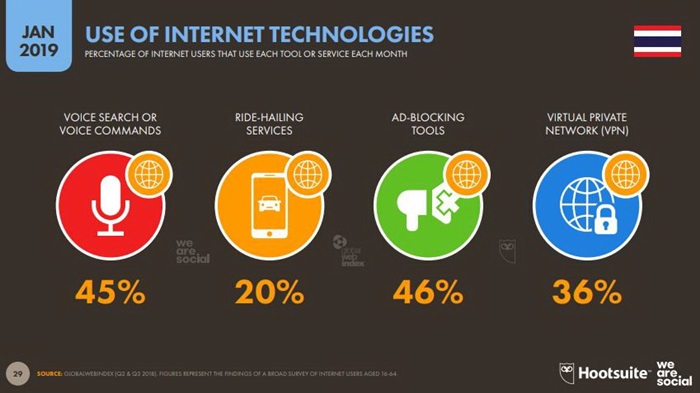 Credit - Digital Thailand 2019
BullVPN - The Best VPN for Online Games.
BullVPN - The Best VPN for Protect your Online Privacy and Unblocked Website.
BullVPN - The Best VPN for bypass Locations & Regions in China Get Now. www.bullvpn.com
BullVPN support for Windows, MacOS, IOS, Android How to setup