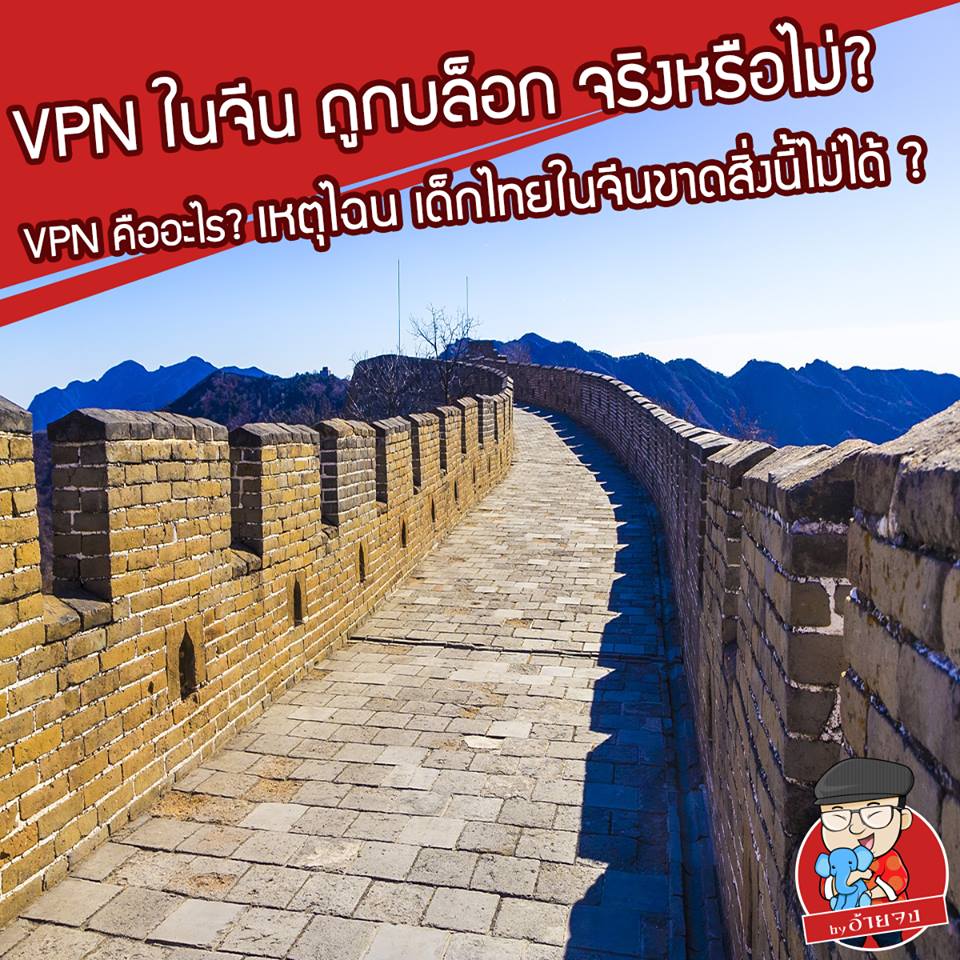 About a week ago, there was news online in China that "From July 1st, VPNs will not be available in China." From the direct experience of the author (Ai Jong), his friends, and information from various sources, it was found that it still works normally. Just remove the application that provides VPN service on various app stores, both iOS and Android. It does not allow searches and downloads in China. China normally removes VPN service apps. But the trend is strong because Green VPN, popular in China, announced that the service will be shut down on July 1st.
Now the VPN still works. For many years there has been news like this all the time but still works normally.
"Now let's understand what a VPN is?
Why can't Thai students in China live without this? "
First of all, let me tell you that "For security reasons," China blocks many popular services including Google, Facebook, YouTube, Twitter, Instagram, and Line. (In Line's case, it's quite strange that on Android it works, but can't see photos and send photos, while iOS doesn't work at all. You have to remove the Chinese SIM and use a VPN to help.)
"VPN is what allows us to bypass Chinese blocks and take us outside of China as if we were using the Internet outside of China". so we can't live without it when in China.
There are both free and paid VPNs. People always ask, What company does the author (Ai Jong) use? Do I have to pay? And why pay?
Author (Ai Jong) Paid VPN. The main reason is Stable and always working. Ai Jong will surely die whenever his internet usage is not smooth.
Everything is jammed Searching for information on Google, Listening to YouTube music, and using Facebook. Because I used to use a free VPN.
Free VPNs have a lot of problems. Some of them can't be accessed. And Ai Jong is not quite sure That his personal information might have been stolen or not.
VPNs that we have to pay for are guaranteed by the service provider. The customer has already paid to maintain this confidentiality. Of course, service providers do not lose the trust of their customers by stealing customer data. And It's also very stable. No matter what the problem, we can let them support us.
As China has blocked VPN apps, these VPN providers have to develop and take good care of their customers. Otherwise, the business will go bankrupt especially big brands.
"Last question, which company does Ai Jong using?"
I have used many brands both free and paid. Now I use a Thai brand called BullVPN- Internet Freedom & Security. I've been using it for two years.
You can trust it because it's a big one in Thailand
I used to talk personally when I had a problem and they immediately supported me. Comfortable communication because communicate in Thai And the price is not expensive.
There are various options. The lowest package is just 7 days and you can request a free trial too. The price is suitable for people who travel to China for a short time or stay in China for a long time like me.
I dare to recommend it because it answers my question. I had the opportunity to get to know them. And I know they're really professional. I'm telling you as a computer student.
This is the article recommended by BullVPN.=> Usage in China Prepare before going to China And how to unblock Chinese websites with BullVPN
Source: Ai Jong, date of writing: 7 July 2017

บริการ BullVPN ที่จะทำให้คุณเป็นอิสระทางโลกอินเทอร์เน็ตทะลุบล็อกข้อจำกัดต่าง ๆ
✅ ปกปิดตัวตนซ่อน IP
✅ ทะลุบล็อกเว็บไซต์ต่าง ๆ
✅ ดูหนัง ฟังเพลงได้ลื่นขึ้น
✅ เล่นเว็บไซต์นอกประเทศได้
✅ ป้องกันการถูกแฮกจากฟรีวายฟาย เช่น ร้านกาแฟต่าง ๆ
✅ ปรับอินเทอร์เน็ตออกนอกให้ดีขึ้น ทำให้โหลดข้อมูลเร็วขึ้น
✅ ลดแลก ลดปิงเกมก็ได้