When it comes to streaming movies and video content, many people would think of Netflix, viu, and Disney+ Hotstar mostly. Accessing those streaming is quite difficult. And there are many reasons why Netflix and many other streaming services are not available in China when "Baidu" sees the business gap. That's why streaming movies and video content like iQIYI started in 2010 in China.
Streaming movies and video content like iQIYI (Ai Qi Yi) can occupy the hearts of Asians, especially Thai people. Part of it comes from a variety of hit series. Whether it's a romantic genre, retro style, or variety shows From mystery and investigation, and iQIYI brought it out for free to watch.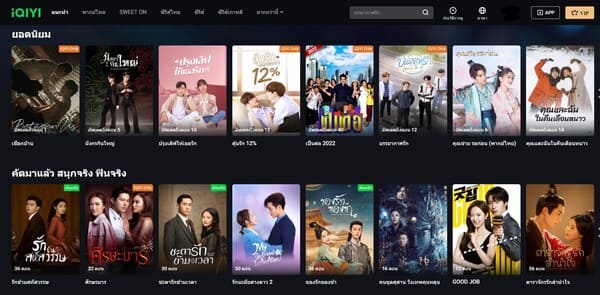 (Image illustration: some iQIYI website page)
In addition to streaming movies and video content, iQIYI also has a platform that collects blockbuster original content with Chinese series as the main protagonist. along with the original Chinese variety show as well as Korean series and movies and Japanese cartoons to meet the needs of the teenage audience in Thailand including other countries in Southeast Asia
(Image illustration: some iQIYI website page)
The problem that we face while watching movie streams and video content is movie lag, movie lag. If you do not want this to happen to us Just make sure to turn on BullVPN before you start streaming. Because BullVPN will not only help in matters of security. Can also reduce movie spasm, reduce lag, reduce ping, and can also adjust the Internet to be better outside at this point. We are not worried about the problem of lag movies.
Personally, I like iQIYI (Ai-Qi-Yi), where iQIYI has a lot of Asian series. Whether it is Korea, China, Japan, Thailand, he has come to us. Plus, there are Thai subtitles with clear images, sharp sound, and more importantly, who is a fancy Chinese drama, iQiyi, there are dozens of stories to look at each other. There is a lot to choose from, anyone who is late should not miss it.