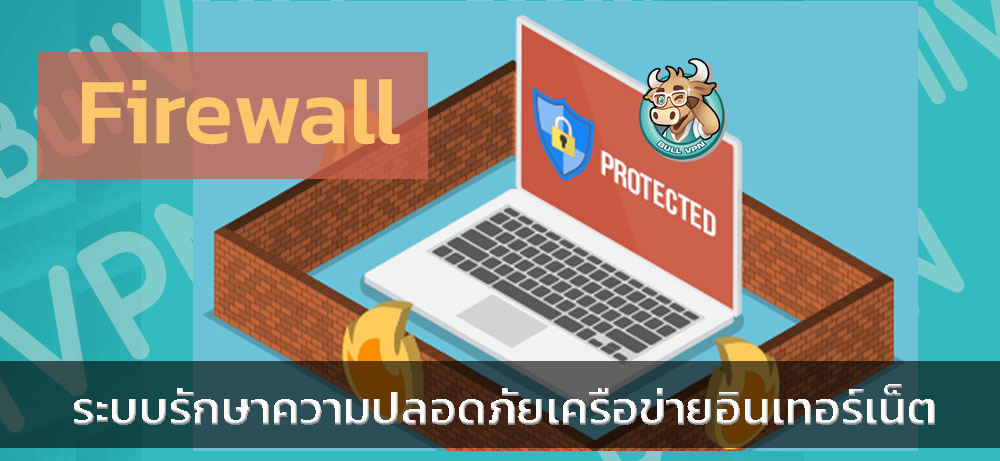 What is a Firewall?
A firewall is a computer network security system.
Which will act on and off external access (e.g. from the Internet) access to internal networks (e.g. internal networks or personal computers)
You might say that a firewall is like a computer's door guard. Which access from outside will have to pass through the firewall to check before being allowed to access the internal network or not.
A firewall will have rules to enforce specific networks, which means that "If the access is valid as required by the firewall, then the network can be accessed.
If it doesn't match, it won't be accessible" (also known as Default deny).
Firewall's function
At present, it has been developed and combines many abilities, such as
- A firewall can filter traffic and alert the user to intrusions.

- Firewalls prevent attackers from accessing your servers in malicious ways.

- Prevent data theft from internal personnel.

- Controls the use of specific programs.

- Keep logs to verify identity.
Log server
Log Server stores information related to usage. The entire Internet of the person in the organization. Because the Internet world can create fake names or identities that are different from the real world, the culprit cannot be found. Therefore, the Computer Crimes Act BE 2550 (2007) has foreseen the punishment caused by threats. On a computer network, Every organization must have a log that can be checked and linked to the offender.
VPN
Virtual Private Network in the past, connecting each branch together required a large budget. Nowadays, there is VPN technology to help make each branch connect. What the VPN does is create a link between the two branches and transmit the data through it. A cross-branch client doesn't need to be customized to run. And VPN can be used immediately when connect with VPN media. One that supports working with VPN is the internet.
Web Filtering
This is a service that helps businesses or organizations control their behavior on the Internet from within the organization. To fit the policy and reduce the cost caused by unnecessary use to the organization. And not wasting costs on Internet bandwidth for using unnecessary websites. To control internet usage according to the user group. It also saves time for the administrator or IT Manager to add a blocklist to the router or proxy. This will help filter and block inappropriate or unwanted websites.
For example, The organization wants to block unwanted websites, for more efficient internet signals.
ANTI-VIRUS
Computer virus It is one of the most damaging problems for PC users to large networks. It is characterized by phishing, virus, spam, and other attacks that cause impact and damage to personal computers and operators. We need security to protect information and keep your system safe from Internet threats.
And finally, recommend using our VPN BullVPN to protect all of the above.
1. สมัครสมาชิก www.bullvpn.com
2.ติดตั้งโปรแกรม BullVPN ตามอุปกรณ์ที่ใช้งาน
3. จากนั้นก็ใช้งาน BullVPN ตามที่ต้องการได้เลย

บริการ BullVPN อิสระบนโลกอินเทอร์เน็ต ทะลุบล็อกข้อจำกัดต่าง ๆ
✅ ปกปิดตัวตนซ่อน IP
✅ ทะลุบล็อกเว็บไซต์ต่าง ๆ
✅ เล่นเว็บนอกได้
✅ ป้องกันการถูกแฮกจากฟรีวายฟาย ร้านกาแฟต่าง ๆ
✅ ปรับอินเทอร์เน็ตออกนอกดีขึ้นทำให้โหลดข้อมูลเร็วขึ้น
✅ ลดแล็ก ลดปิงเกมก็ได้
Get BullVPN Now. www.bullvpn.com