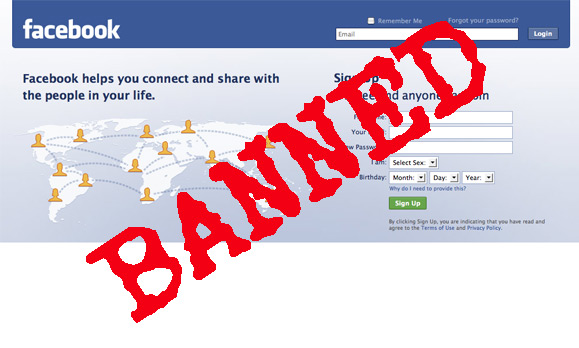 Website information indexoncensorship.org finds 10 countries that have been banned and unbanned or some countries still ban Facebook until now. What countries are there? Let's see!!
North Korean
Have to mention for a country where access to social media is very difficult. And while North Korea allows tourists to use the domestic 3G network, internet access is still restricted for citizens in North Korea. But even then, North Koreans weren't too bothered by the measures because people in the country have long been accustomed to restricting liberties like this.
Iran
Iranian citizens only had a chance to get to know Facebook for a short time because after the 2009 elections, the government took measures to prevent chaos caused by instigating opposition movements. And even though the president has his own Twitter But accessing Facebook and Twitter in Iran is extremely difficult and under constant surveillance.
China
Facebook in China It has been blocked since July 2009 after protests by the Uyghur Muslim minority in Urumqi, a gathering caused by the use of Facebook as a means of communication and planning. The Communist Party of China has to enact internet restrictions, delete posts and block people's access to Facebook in the country.
Cuba
Although not officially banned but getting into the social world of Cuban people is very difficult. And only politicians, press, and medical students are allowed to use Facebook As for the general people who want to have some Facebook with him. They must be willing to pay for internet access at a general internet shop. That costs up to $6-10 an hour. While the average hourly income of people in this country is $20.
Bangladesh
Facebook in Bangladesh was officially shut down in 2010 for posting caricatures of the Prophet Muhammad. Including many country leaders until the arrest of the perpetrators that generated widespread criticism. The Bangladeshi authorities decided to cut off the power from the beginning of the wind. By banning Facebook for weeks ever. and even today Bangladeshis will be able to use Facebook again. But everything is under the watchful eye of government agencies every step of the way.
Egypt
After the turmoil that happened at the end of last year. The Egyptian government has decided to suspend access to almost all types of social media. Whether it's Facebook, Twitter, YouTube, Hotmail, or even Google. In order to prevent provocations and create chaos in the country as before.
Syria
In Syria, Facebook has been blocked since 2007 to prevent coalition movement against the people's government. without the government's access or inspection. The Syrian government also fears infiltration by Israeli spies through social networks. So shutting down Facebook seems to be the easiest solution for this country's government.
Mauritius
Like many other countries where fake celebrity pages have been created, Mauricius has also been found to have a fake Facebook page claiming to be the one of Prime Minister Navin Ramgoolam. It was decided to ban Facebook and all access to social networks in 2007, but the ban didn't last long. because they can't stand the demands and resistance of the people in the country.
Pakistan
Facebook in Pakistan was blocked for two weeks in 2010 for religious reasons because there is a contest to paint a picture of the Prophet via Facebook. This measure is only a warning. And today, Pakistani people still use Facebook as usual. Even though I can't watch Youtube.
Vietnam
Vietnam had blocked Facebook in late September 2009 for a week, spread rumors that the Vietnamese government had ordered the closure. But the government has denied that it was behind the incident. And in September 2013, the Vietnamese government passed a law prohibiting people from criticizing the work of the government through Facebook.
There are many other countries that have temporarily blocked Facebook or permanently banned however Countries that ban Facebook can't win. Because there are ways to access various content and blocked websites. Just use the Bull VPN service, you will be able to access the website. the content you want.
Do you live in a country where Facebook is permanently banned? Let us know how it affects you.

บริการ BullVPN VPN ที่จะทำให้คุณเป็นอิสระทางโลกอินเทอร์เน็ตทะลุบล็อกข้อจำกัดต่าง ๆ
✅ ปกปิดตัวตนซ่อน IP
✅ ทะลุบล็อกเว็บไซต์ต่าง ๆ
✅ ดูหนัง ฟังเพลงได้ลื่นขึ้น
✅ เล่นเว็บไซต์นอกประเทศได้
✅ ป้องกันการถูกแฮกจากฟรีวายฟาย เช่น ร้านกาแฟต่าง ๆ
✅ ปรับอินเทอร์เน็ตออกนอกให้ดีขึ้น ทำให้โหลดข้อมูลเร็วขึ้น
✅ ลดแล็ก ลดปิงเกมก็ได้